Day-o, nn-di-Day-ay-ay-o
Click a name be-low
To read the Bi-Oh

Stewed Driver
(Vocals)

Otto Wino
(Guitar, Vocals)

St. Pauli Dangerousli
(Drums, Vocals)

Dark N. Stormy
(Bass, and maybe Vocals)

Harvé Bangwaller
(Keys, Vocals, Webmaster)

Dickie Melonball
(Sound Master)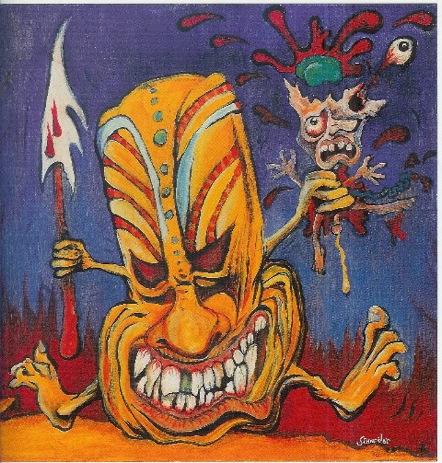 Stewed Driver
-
Lead Vocals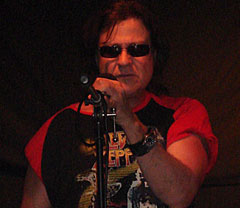 New York-born and -bred Stewed Driver has been in and out of the music scene for most of his life. From his early days in
The Japancakes
to his stint as drummer in
Tud
, to his tenure in
The Pillow Biters
,
The Piranha Brothers
, and
The Well Hungarians
, to his rhythm guitar duties in
The Jack Meirhoffer Trio
,
The Rat Crackers
, and
Blabba
, to his choreography years with
Baby Paste
,
Portuguese Breakfast
, and
That Which Remains Unnamed
, to his current incarnation as vocalist/front man extraordinaire in
The Lifesize Gorgeous Cocktails
.
Currently Stewed can also be found contributing back-ups and spiritual advice to local faves
Pinky Starfish and the Balloon Knots
.
Otto Wino
-
Guitar, Vocals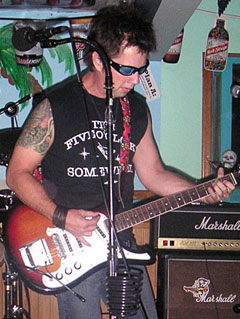 Origins unknown. Rumored to be the unwanted bastard child of hobo gypsy tramps, Otto was abandoned at birth and discovered in a battered oak barrel placed at the rear entrance of the notorious Rusty Bucket of Blood Saloon and Bait Shoppe. Raised by gangster molls, bar flies, and wharf rats, he quickly developed a taste for booze, broads, the blues and broiled flounder topped with a zesty citrus salsa. When the rotted carcass of a vintage Gibson strung with barbed wire came into his possession via a lethal schoolyard game of Dead Eye Jacks, young Otto knew he had found his calling – throat-ripping raunch and roll straight up without a chaser. Hobbies include grifting, drifting and riffing
.
St. Pauli Dangerousli
-
Drums, Vocals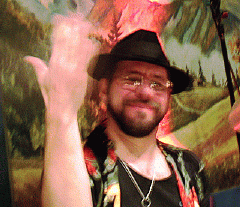 Brooklyn-born and -bred, a.k.a. The Brown Tornado, a.k.a. The Doctor, a.k.a. The Bastard of Bed-Sty, a.k.a. The Janitor, a.k.a. The Rascal from Ridgewood, a.k.a Eaglebird Humperdink, a.k.a the Asshole from Canarsie, a.k.a. The Wildman of Williamsburg, a.k.a. The Prick of Bushwick, a.k.a. The Ronzoni Vandal, a.k.a. The Prince of X-ray, a.k.a. Stinky, a.k.a. That F***er from Flatbush, a.k.a. Pauli the Tour Guide, a.k.a. Bensonhurst Bipolar, a.k.a. Eaglebeak, a.k.a. Snoopy, a.k.a. The Lavoris Marauder, etc
.
Dark N. Stormy
-
Bass (and maybe Vocals, someday)
Dark N. Stormy appeared one rainy night without warning nor invitation. A shiftless farmhand and minstrel by trade, he hails from the forgotten village of Nostalgia, Italia. With blood lines tracing back to Da Vinci, Stradivari, Geppetto, and at least one Pope, he is the last descendent of generations of prodigal sons. The general consensus is he is the equivalent of a time traveler who ran away to join the circus. Although quite lovable, most find this quiet but talkative lad very, very mysterious.
Harvé Bangwaller
-
Keyboards, Vocals, Webmaster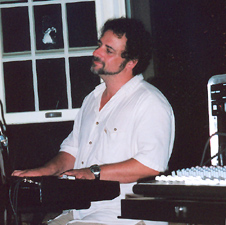 Born in the mid-18th century to an impoverished emigré couple in the Soviet Republic of Stanthemanistan. His mother, Mrs. Dr. Emma Gray, was a renowned eurosurgeon, while his father, Dr. Mr. M. A. Gray, was a classical composer who established the German School of Schottische-Hiphopische. Suddenly Barfli Gray, as he was named at birth or thereabouts (or perhaps a little sooner), was born - the oft-sprung offspring of celebate parents. Because his early piano studies were influenced by both parents, none of the recognized conservatories would accept him as a student, claiming that his use of scalpels damaged their instruments. Sensing the genius that lay underneath the bloodstains and lacerations, the famed composer-pianist Franzthemanz "Laundry" Liszszsts took him under his wing. In gratitude, Mrs. Dr. Gray performed the infamous surgery which replaced Liszszsts' wing with a regular arm. Barfly switched gears in midstream and became the first spiritualist-pianist, under the pseudonym Harvê Bangwaller. Soon he was celebrated in all the great salons and saloons of Europe, channeling the works of composers who would be unknown centuries later when they came to be born. His new-found success was abruptly ended during a demonstration of Thomas Edison's invention, the Pantaloonicator, which somehow went amok and mangled Bangwaller's hands into very interesting but non-functional shapes. His concert career over, Bangwaller came to the decision to begin playing
the rock music
, because "
jeder kann diese Scheiße spielen.
" (The Pantaloonicator never again saw the light of day.)
Dickie Melonball
-
Sound Master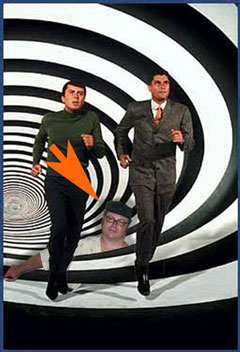 Dickie's soul was scheduled to be delivered to Liverpool, England in 1951, but due to a paperwork snafu he showed up in the backseat of a '41 Ford business coupe in Omaha, Nebraska on a cold December morning near the end of 1962. Born the seventh son of a seventh son, Dickie never knew his father -- a traveling circus worker whose claim to fame was the (uncredited) invention of the wah-wah pedal and getting drunk and beating up midgets. That was Cole. Raised by relatives on a steady diet of corn whiskey and gospel music, Dickie knew from an early age that sharecropping was not his bag, so he did the whole deal with the Devil thing and devoted himself to The Music. And to the Devil.
After years of hard drinking, hard living and hard candy, Dickie fell in with seminal ill-fated barn rockers, The Cow Tippers, where he developed his gold-plated ear and signature sound. Now drunk, toothless and hard of hearing, Dickie somehow brokered a deal that allowed him to keep his soul and cement his place as guardian of The Lifesize Gorgeous Cocktails' magical sound. What he gave up in the bargain, we will never know.